Hello everyone and welcome back.
It took quite a long time. I had a lot of stuff to do and wanted to show something really nice instead of endlessly ongoing WIP coated in green and grey.
So I met with this nice guy from my neighbourhood. I talked about him in an earlier post. I somehow got him into VC, so he bought this nice 1/35 Edelweiss tank and an airbrush pistol, too.
Well, as he is not all too far into this airbrush stuff, we decided to "test" it with my vehicles. And guess what? Haha, it looks like Gallia.
Eager to see, aren't you?
So, our very first attempt using airbrush, masking tape and our fantasy allowed us to achieve a goal that big we didn't know if we could at least achieve it in the first place. I mean - it was ...fun. Took me a few hours to apply all the masking tape elements on both vehicles ... Haha, I am slow.
But nevermind.
Having tried to recreate the Gallian Army armor camouflage, we came out with this:
Sadly, the tracks and antennas weren't able to withstand the gravity of their existence and broke off. Thank you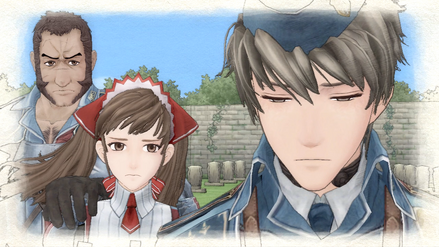 No worries, Welkin. We fix that later.
In order to prevent that from happening again in the future we decided to later create a vehicle base for all the Gallian vehicles. I know it is not the best opportunity to be chosen, but in my opinion, I think it's acceptable (especially when used with all the other bases of miniatures and terrain ...).
I went on working on the engineer, who sadly didn't make it ... into this update. So he will be there on the next one.
And for sure the Gallian tricycle ... tricycle ... tricycle made some progress.
Looks now like this:
It's still not the prettiest thing ever, but it soon will be. Look at its "hat".
That looks quite Gallian. Or at least like a maid.
Meanwhile my comrade spent some time on both Hetzer and Command Vehicle where he concluded that we had to rethink our plan to airbrush those Gallian markings on the vehicles sides. Using masking tape didn't work in the first place.
I have to get into that stuff once again sometime later.
Nonetheless we were able to find out that in cases of emergency the bagpacks put on the CV can be removed very fast. So no problem for the crew when forced to bailout.
And with its designated base:
The Hetzer was quite easier to work on, though my comrade did it all himself. He was so damned proud of his airbrush paint job that he didn't want me to ruin it. I can fully understand him and I am proud of him, too. He did a very good job.
That's the reason he was a bit disappointed by the photos I took as he invested more time in both vehicles weathering and the equipment which can't be seen right now. But no fear, my friend. We will make "better" pictures when those guys are finished. I mean - this is WIP.
There are still some improvements to make, but for now ... say what you want ... it's Gallia.
And a little though of mine how the Gallian markings are thought to be put on the vehicle. I have to think about how to get that done.
It is just a product placement. Come to Gallian soil.
We need more people!
As you can see - the Gallia project is progressing. Slowly, but progressing.
Maybe I should consider making a mould for creating the armor of the Gallian soldiers.
I need more infantry. Soon!

Gimme that! Wanna make mould! Waaargh!
Oh, yeah - just before I forget to tell you that: Sega decided to put VC I to PC (finally). Will be there on 11th of November. Yee-haaah! So, every fan of the series and everyone who wants to become it, get you funds together :-D
See you on the next update.
Take care
'Gazer